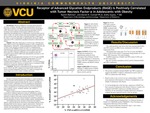 Abstract
Introduction: Obesity in childhood is associated with an increased prevalence of diabetes and other traditional cardiometabolic risk factors, suggesting an epidemic of premature cardiovascular disease among today's youth. Glycotoxins, known as advanced glycationend products (AGE's), activating via the membrane-bound receptors (mRAGE), have been implicated in the pathophysiology of inflammation, (increased tumor necrosis factor-α [TNF-α ]), insulin resistance and vascular dysfunction in adults, but the role of RAGE in the early stages of metabolic disorders is unknown. In this study, we assessed relationship of cardiometabolicrisk factors, mRNA expression of TNF-α and RAGE in peripheral monocytes in adolescents with obesity.
Methods: Thirty three adolescents,11-16 years of age, with body mass index (BMI) Z-score≥2 were admitted following a 12-hour overnight fast for anthropometrics, lipid profile , fasting peripheral blood sample collection, and a 2-hour 75 gm, oral glucose tolerance test (OGTT). Peripheral blood mononuclear cells (PBMNC) positive for CD14 were isolated from blood. Cells were further analyzed by quantitative PCR for mRNA expression of RAGE and TNF-α. Pearson's coefficients were calculated to assess the associations between RAGE mRNA and cardiometabolicrisk factors as well as TNF-α mRNA levels.
Results: The participants had a mean age of 12.7±1.41 years and BMI-Z score 2.32±0.35 SD with 81 % participants being female; 62 % were Black, 28% Caucasian, 10% were Hispanic. We observed a positive correlation between mRNA levels of RAGE and TNF-α in CD14+ monocytes in blood (r=0.62, p<0.01). However, we did not observe a correlation of BMI, cholesterol or triglyceride with RAGE mRNA levels.
Conclusion: The positive relationship between the monocyte mRNA levels of RAGE and TNF-α suggest involvement of AGE-RAGE axis in obesity-associated inflammation and needs to be further investigated with larger sample size as well as studies in healthy adolescents.
Keywords
RAGE, obesity, adolescents, cardiometabolic risks, inflammation
Disciplines
Laboratory and Basic Science Research | Other Immunology and Infectious Disease | Translational Medical Research
Current Academic Year
Senior
Faculty Advisor/Mentor
Anshu Gupta MD
Faculty Advisor/Mentor
Daniel Conrad PhD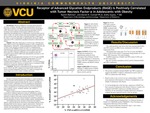 COinS