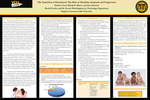 Abstract
The transition to parenthood, while an exciting time to celebrate the life of their child, causes parents to face new challenges such as physical exhaustion (Petch & Halford, 2008), role overload (Perry-Jenkins, Goldberg, Pierce, & Sayer, 2007), and less time for themselves and their partners (Feeney, Hohaus, Noller, & Alexander, 2001). Today in the United States, 85% of women and 76% of men will have parented a child by the time they are forty (Roy, Schumm, & Britt, 2014), making this an important developmental transition to examine. Humility has been found to have numerous social benefits, among them the initiation and maintenance of romantic relationships (van Tongeren, Davis, & Hook, 2014). Prior studies have found that greater humility in romantic relationships increases relationship satisfaction and forgiveness (Farrell et al., 2015). Gratitude may also increase relationship satisfaction and commitment (Joel et al., 2013), and humility and gratitude may be related (Kruse et al., 2014). The current study sought to examine how humility is related to other virtues (i.e., gratitude and forgiveness) during the transition to parenthood.
Participants included 69 heterosexual married couples (N = 138) that were expecting their first child. 72% were Caucasian and ranged in age from 22 to 48 (M = 30.8, SD = 4.76). Relational humility was assessed through behavioral coding with three observers who were female undergraduate research assistants. Observers obtained 80% or higher in reliability. The Relational Humility Scale (RHS; Davis et al., 2011) was used to measure humility in relationship partners. Other measures included Trait Forgiveness Scale (Berry et al., 2005) and the Gratitude Questionnaire (McCullough et al., 2002).
Preliminary results examined correlations between study variables. Relational humility was positively correlated with forgiveness (r = 0.28) and gratitude (r = 0.33). A multiple regression analysis will be run to see if relational humility is associated with higher levels of forgiveness and gratitude. Additionally, analyses will be run to compare results according measurements of relational humility (i.e., self-report versus behavioral coding). Implications of this work would benefit new parents by promoting the virtues that support healthy and successful relationships during the transition to parenthood.
Subject Major(s)
Psychology
Keywords
Gratitude, humility, forgiveness, transition to parenthood
Disciplines
Developmental Psychology | Social Psychology
Current Academic Year
Freshman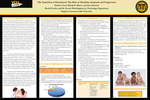 COinS