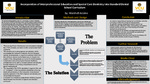 Abstract
According to dentistry, special needs is defined as individuals whose medical, physical, psychological, or social situations may make it necessary to modify normal dental routines in order to provide dental treatment for that individual. The population of special needs patients is increasing. The lack of educated professionals in special care dentistry is leading to severe and untreated systemic and oral health problems in the special needs population. The implementation of interprofessional treatment for special needs individuals has proven to be the most effective method of treatment within the special needs population. This study examines the current application of special care dentistry and interprofessional education curriculum through the analysis of case studies and surveys in order to establish a reform that provides a more comprehensive implementation of classes that train oral health professionals on how to treat special needs patients. Despite newly established accreditation standards, graduating dental students are adequately prepared to engage in the treatment of special needs patients. Some studies have suggested that a mandatory post graduate year for dental students will correct this problem, however, this is an expensive solution that would present a financial burden to dental students. A system that combines special care and interprofessional education courses into a didactic and hands-on learning curriculum that will fit into curricula and surpass the CODA accreditation standards. Forming a universal special care dentistry curriculum taught through an interprofessional approach, special needs patients will not only receive better care but cost and treatment will improve as well.
Keywords
Special Care Dentistry, Interprofessional Education, Dental Curriculum, Special Needs Patients, Pre-Doctoral Studies, Dentistry, CODA, ADEA, Integrated Learning, Dental Education
Disciplines
Community Health and Preventive Medicine | Dental Public Health and Education | Health Services Administration | Other Public Health
Current Academic Year
Freshman
Faculty Advisor/Mentor
Professor Mary Boyes
Faculty Advisor/Mentor
Professor Faye Prichard
Recommended Citation
Adzima, Marshall. "Incorporation of Interprofessional Education and Special Care Dentistry into Standard Dental School Curriculum." 11 April 2016.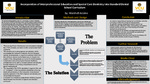 COinS