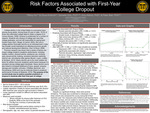 Abstract
Previous research has shown that a variety of factors can impact college student's academic performance, including healthy nutrition, physical activity, substance use, smoking, early sexual activity, bullying, excessive television watching, internet use, and playing video games. The purpose of the current study was to explore possible predictors of dropout in students after their first year of college. Data came from the Spit for Science sample and were limited to individuals in the first three cohorts that answered the survey during the fall of their freshmen year (N=6105). Logistic regression was used to test a variety of risk factors, including mental/behavior risk factors, familial risk factors, stress/trauma exposure, and personality factors, in order to see whether or not there was a correlation between risk factors and dropout rates. Initially, multiple risk factors were found to be significantly associated with dropout. However, depression (OR = 1.04, p < 0.05) was the only factor associated with dropout after we included GPA (OR = 0.395, p < 0.001) as a covariate. Supplementary analyses revealed that many of the factors that were found to be significantly associated with dropout rates were significantly related to GPA, suggesting that these risk factors may influence dropout through their effect on GPA.
Keywords
College Dropout, Attrition, GPA, Academic Performance, Freshmen
Disciplines
Education | Psychology | Social and Behavioral Sciences
Current Academic Year
Freshman
Faculty Advisor/Mentor
Danielle Dick, PhD
Faculty Advisor/Mentor
Amy Adkins, PhD
Faculty Advisor/Mentor
Peter Barr, PhD
Recommended Citation
Ho, T. K. & Krishna, D. (2016, April 20). Risk Factors Associated with First-Year College Dropout. Poster session presented at Virginia Commonwealth University Poster Symposium for Undergraduate Research and Creativity, Richmond, VA.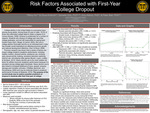 Included in
COinS