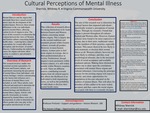 Abstract
Mental illnesses and the stigma that surrounds them have caused societal unrest since the development of the modern human. However, there remain differences in the way individuals perceive mental illness, allowing various levels of stigma to arise. The focus of this research is to determine the contrast between the views of Western and Eastern cultures concerning mental health status - exploring how cultural expectations for women affect their perception, and disclosure, of mental illnesses. This research involves studies that examined societal expectations for Western and Eastern cultures, and experiments measuring the perceptions of mental illness from individuals with various heritages. Articles concentrating on the factors that influence one's disclosure of mental illness were included, as well. My research has discovered that there is a strong correlation between culture and one's perception of mental illness. Western cultures are more likely to embrace, and thus, treat psychological ailments, due to the increased levels of social acceptance and available treatment options. Eastern cultures, however, are less likely to seek treatment or disclose their mental state at all, because of the social stigma associated with having a mental illness. More intensive research must be completed to determine the direct implications upon women. Uncovering the principal reasons for the existing stigma will expose it directly, and create opportunities for populations to become educated on the realities of mental illness. This will allow for disorders of this caliber to be more widely accepted, and thus, cause the social stigma associated with them to eventually dissipate.
Subject Major(s)
Sociology and Culture
Keywords
Stigma - a mark of disgrace associated with a particular circumstance, quality, or person.
Disciplines
Politics and Social Change | Social and Cultural Anthropology | Social Psychology | Social Psychology and Interaction | Sociology of Culture
Current Academic Year
Freshman
Faculty Advisor/Mentor
Professor Faye Prichard
Recommended Citation
Abdullah, Tahirah. (2011). Mental illness stigma and ethnocultural beliefs, values, and norms: An integrative review. Clinical Psychology Review, 31, 934-948. doi:10.1016/j.cpr.2011.05.003 Busfield, Joan. (2012). Challenging claims that mental illness has been increasing and mental well-being declining. Social Science and Medicine, 75, 581-588. doi:10.1016/j.socscimed.2012.02.053 Dalky, H. F. (2012). Perception and coping with stigma of mental illness: Arab families' perspectives. Issues in Mental Health Nursing, 33, 486-491. doi:10.3109/01612840.2012.676720 Mellor, D., Carne, L., Shen, Y., McCabe, M., Wang, L. (2012). Stigma toward mental illness: A cross-cultural comparison of Taiwanese, Chinese immigrants to Australia and Anglo-Australians. The Journal of Cross-Cultural Psychology, 44, 352-364. Rusch, N., Lieb, K., Bohus, M., Corrigan, P.W. (2006). Self-Stigma, Empowerment, and Perceived Legitimacy of Discrimination among Women with Mental Illness. Psychiatric Services, 57, 399-402. Saks, E. R. (2009). Some Thoughts on Denial of Mental Illness. The American Journal of Psychiatry, 166, 972-973. Sue, S., Chang, J. K. Y., Saad, C. S., & Chu, J. P. (2012). Asian American Mental Health. American Psychologist, 67, 532-544. Ueno, Rie. (2012). Perspectives of Japanese mothers with severe mental illness regarding the disclosure of their mental health status to their children. Archives of Psychiatric Nursing, 26, 392-403. doi:10.1016/j.apnu.2012.01.002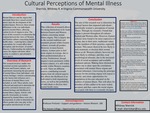 COinS