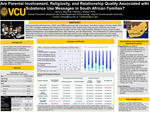 Abstract
Using transcribed interviews from a GEO- and UKZN-funded study with a low-income, multi-ethnic sample in Durban, South Africa (N = 272), messages regarding what caregivers recall saying to their children about drug use were coded into one of eight categories by a trained research team. Categories included: Just the Facts, Real Examples, Resistance Tactics, Drugs are Bad, Negative Consequences, Encouraging Abstinence, Zero Tolerance, and Use Responsibly. The contributions of 1) parent religiosity, 2) parental involvement, and 3) parent-adolescent relationship quality to the message content were examined. Few overall differences in message content were found across the predictors suggesting that alternative approaches to analyses might be beneficial.
Subject Major(s)
Psychology
Keywords
urban, substance use, adolescent, communication
Disciplines
Developmental Psychology
Current Academic Year
Senior
Faculty Advisor/Mentor
Wendy Kliewer
Recommended Citation
Mize, J. L. & Kliewer, W. (April 2016). Are parental involvement, religiosity, and relationship quality associated with substance use messages in South African families? Poster presented at Virginia Commonwealth University's Annual Undergraduate Research Symposium, Richmond, VA.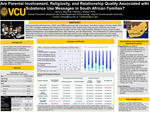 Included in
COinS