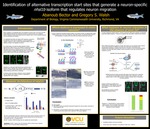 Abstract
Identification of Alternative Transcription Start Sites that Generate Neuron-Specific nhsl1b Isoform that Regulates Neuron Migration
Abanoub Bector, Depts. of Biology and Chemistry, with Dr. Sarah Golding, Dept. of Biology
A recently identified novel gene, nhsl1b, has been shown to be necessary for the caudal tangential migration of facial branchiomotor neurons (FBMNs) as an effector of planar cell polarity (PCP) signaling. The role of nhsl1b in regulating neuron migration remains unknown. Nhsl1b has six variants, termed ex1nhsl1b, ex1anhsl1b, ex1bnhsl1b, ex1cnhsl1b, ex1dnhsl1b, and ex1enhsl1b in exon 1 that then splices into the common portion of the transcript (exon 2 to exon 8). Each isoform has its own transcriptional start site (TSS) and 5-prime UTR region. Here we examined the spatial expression patterns for the six nhsl1b variants and investigated their role in FBMN migration. In order to determine the spatial expression pattern for each isoform, we performed whole mount in-situ hybridization. We found that all nhsl1b variants were expressed generally throughout the developing nervous system, including neural progenitor cells. An exception was the ex1dnhsl1b that exhibited an enrichment in FBMNs, suggesting that ex1dnhsl1b is a neuron-specific isoform of nhsl1b. To determine whether ex1dnhsl1b was required for FBMN migration, we generated de novo mutations in ex1dnhsl1b using CRISPR/-Cas9 genome editing. We found that an ex1dnhsl1b mutation can lead to a severe migration defect of motor neurons consistent with the idea that ex1dNhsl1b is a neuron-specific isoform.
Current Academic Year
Senior
Faculty Advisor/Mentor
Sarah Golding, Ph.D.
Sponsorship
Virginia Commonwealth University. Undergraduate Research Opportunities Program
Is Part Of
VCU Undergraduate Research Posters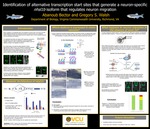 COinS