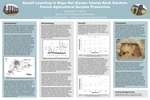 Abstract
Basalt Leaching in Rapa Nui (Easter Island) Rock Gardens Favours Agricultural Surplus Production
Elisabeth Burns, Depts. of Anthropology and Gender, Sexuality, & Women's Studies, with Dr. Christopher Stevenson, Dept. of Anthropology
In an effort to provide evidential support for the process of basaltic mineral dissolution replenishing soil fertility and enabling productive plant growth in Rapa Nui rock gardens, a simulated leaching experiment was conducted to determine the elemental release rates from the basalt matrix, and the availability of these elements for plant absorption. The dissolution experiment modeled Rapa Nui soil conditions and rainwater with a pH of 6.3. Basalt leaching was accelerated at elevated temperatures (50-90°C) for 44.8 days. The results indicated that calcium and magnesium were preferentially leached even with a short-term exposure. These data support an earlier observation of calcium enhancement in rock gardens above levels of natural fertility in non-garden soils. Ultimately, it is of interest to determine if soil nutrient enrichment through basalt leaching was enough to increase crop surplus and facilitate the construction of megalithic architecture.
Faculty Advisor/Mentor
Christopher Stevenson, Ph.D.
Sponsorship
Virginia Commonwealth University. Undergraduate Research Opportunities Program
Is Part Of
VCU Undergraduate Research Posters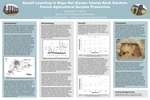 COinS