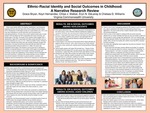 Abstract
Ethnic-Racial Identity and Social Outcomes in Childhood: A Research Review
Grace Bryan, Dept. of Sculpture, Keyri Hernandez, and Chloe Walker and Eryn DeLaney, Dept. of Psychology Graduate Students, with Dr. Chelsea Williams, Dept. of Psychology
Ethnic-racial Identity (ERI) is the labeling, identification, and processing regarding ethnicity-race that takes place during childhood (Umana-Taylor, 2014). Development of ERI begins as early as 4 years (Derlan et al., 2017), and may have implications for social outcomes, such as prosocial and externalizing behaviors. The aim of the current narrative review was to review research that has tested how ERI is associated with social outcomes, and identify gaps in this field. The results of the narrative review suggest that, in adolescence, higher ERI is associated with better social outcomes, such as prosocial behaviors (Armenta et al 2011:Streit et al 2020). Further, findings of the review indicated that limited work has included individuals younger than adolescents; one study that did found that lower ERI was linked with more externalizing problem behaviors (Smith et al., 2009). The review also highlighted various gaps in this literature, such as that an operational definition of prosocial behavior in the context of ERI needs to be established, and there is a lack of research that includes multiracial individuals, and individuals younger than adolescents. Future research should investigate ERI and social outcomes in childhood with diverse samples, as such research may provide important information to school systems, counselors, and caregivers about the development of ERI and its implications for development.
Faculty Advisor/Mentor
Chelsea D. Williams, Ph.D.
Sponsorship
Virginia Commonwealth University. Undergraduate Research Opportunities Program
Is Part Of
VCU Undergraduate Research Posters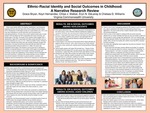 COinS