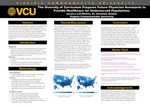 Abstract
How the Diversity of Curriculum Prepares Future Physician Assistants (PA's) to Provide Healthcare for Underserved Populations
Jessica Lim-Wilson, Depts. of Health, Physical Education & Exercise Science and Psychology, with Dr. Christine Booker, Dept. of Kinesiology and Health Sciences
This research project was conducted to explore the availability of the diverse curriculum in Physician Assistant programs by region as well as the scope of PA responsibility across the United States. Using the information collected, the association between Physician Assistant curriculum and underserved population health outcomes by region was examined. In conclusion, this research has assisted in understanding the relationship between PA education and health outcomes.
Faculty Advisor/Mentor
Christine Booker, Ph.D.
Sponsorship
Virginia Commonwealth University. Undergraduate Research Opportunities Program
Is Part Of
VCU Undergraduate Research Posters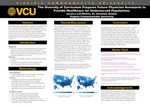 COinS