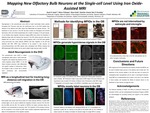 Abstract
Mapping New Olfactory Bulb Neurons at the Single-Cell Level Using Iron Oxide- Assisted MRI
Sarah Izabel, Dept. of Biology, with Dr. Jeffrey Dupree, Dept. of Anatomy and Neurobiology
Neurogenesis in the subventricular zone (SVZ) of adult mammalian brains persists throughout life. Precursor cells that are continuously born in the SVZ migrate long-distance to the olfactory bulb (OB), where they differentiate into specific neurons. The distribution of new neurons in the OB has been studied via histological and intravital techniques, which are limited longitudinally and in depth of imaging. In the past decade, in vivo studies using magnetic resonance imaging (MRI) have shown the possibility of detecting single cells and tracking new neurons in the OB, where precursor cells can be labelled using iron oxide. In this study, neural progenitor cells in the SVZ were labeled using micro-sized iron oxide particles (MPIOs) and their migration to the OB was detected with MRI. MPIO was confirmed to be present in new neurons via immunohistochemistry and MRI signals were overlapped with MPIOs showing that MPIO-generated MRI contrast can be used to detect single neuronal cells in the OB.
Faculty Advisor/Mentor
Jeffrey Dupree, Ph.D.
Sponsorship
Virginia Commonwealth University. Undergraduate Research Opportunities Program
Is Part Of
VCU Undergraduate Research Posters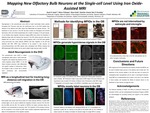 COinS