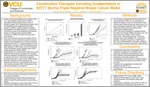 Abstract
Combination Therapies of Guadecitabine and Immune Checkpoint Inhibitors in a Murine Triple-Negative Breast Cancer Model
Jamie-Jean Gilmer, Depts. of Biology and Chemistry, with Dr. Sarah Golding, Dept. of Biology
Triple-negative breast cancer (negative for estrogen and progesterone receptors and HER-2) currently carries a poor prognosis, and new treatment regimens are highly sought after. In this study, we investigated the efficacy of a next-generation DNA methyltransferase inhibitor, guadecitabine, alone and in combination with other agents for treating the murine E0771 medullary breast adenocarcinoma model. In vitro, we combined guadecitabine with trametinib, a MEK1/2 inhibitor, and observed suppressed E0771 tumor cell growth and a marked increase in MHC class I and PD-L1 expression. In vivo, we combined guadecitabine with immune checkpoint inhibitors, anti-PD-1 or anti-PD-L1, and the taxane, paclitaxel. Treatment with guadecitabine, paclitaxel, and anti-PD-1/L1 demonstrated effective inhibition of tumor growth, and treatment with guadecitabine, paclitaxel, and anti-PD-1 produced a moderate cure rate. Additionally, we investigated the effect of early vs delayed treatment in vivo with guadecitabine, especially when combined with anti-PD-1. We found that early treatment using guadecitabine showed significant initial tumor suppression in vivo, but tumor growth recovered soon after treatment ceased. Lastly, we studied the effects of guadecitabine on E0771 tumors in vivo when used in combination with adoptive cellular therapy (ACT) with tumor-sensitized T lymphocytes, and we found the combination to be highly effective, with a high cure rate.
Faculty Advisor/Mentor
Sarah Golding, Ph.D.
Sponsorship
Virginia Commonwealth University. Undergraduate Research Opportunities Program
Is Part Of
VCU Undergraduate Research Posters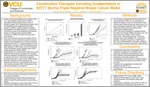 COinS