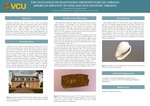 Abstract
The Relationship Between Enslaved Individuals And Plantation Architecture In 18th And 19th Century Virginia
Emma Clark, Depts. of History and Anthropology, with Dr. Bernard K. Means, Dept. of Anthropology
Enslaved labor built the physical environment of 18th and 19th century plantations from slave quarters to plantation houses. These built environments were designed in a way to showcase the stratification between enslavers and the enslaved. An analysis of plantation archaeology on three significant Virginian plantations can reveal two aspects of the relationship between enslaved individuals and plantation architecture. First, it can reveal the physical process of construction (brickmaking, building development). Second, it can reveal the impact of these structures on African American identity (representing their status in society, social grouping). This analysis further highlights the lives of individuals forgotten in the shadow of Virginia's remembered.
Faculty Advisor/Mentor
Bernard K. Means, Ph.D.
Sponsorship
Virginia Commonwealth University. Undergraduate Research Opportunities Program
Is Part Of
VCU Undergraduate Research Posters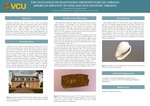 COinS