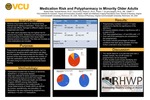 Abstract
Medication Risk and Polypharmacy in Minority Older Adults
Rusha Patel, Depts. of Biology and Chemistry, with Dr. Youssef Roman, VCU School of Pharmacy, Dr. Elvin Price, VCU School of Pharmacy, and Dr. Lana Sargent, VCU School of Nursing
Introduction: Adverse drug events refer to an individual being harmed due to taking a medication. These risks can include side effects, damage to different organs, senses impairment and more. The older adult population has the highest risk for adverse drug events. Antibiotics and anticoagulants are some examples of medication that cause higher adverse events in the elderly. The Beer's List also includes drugs and their possible side effects. Anticholinergic can cause confusion and dry mouth, anti-infective can cause pulmonary toxicity, and cardiovascular medication can cause damage to the nervous system and increase toxicity in other organs. These events are preventable with caution, but it is important to recognize which medications are taken and the possible interactions/risks for the elderly. The purpose of this study was to evaluate the number of high-risk medications used by older adults (age 60 and older) living in a low-income community-based housing. Participants included had no history of dementia, Alzheimer's, or Lewy-body disease. Methods: Data will be collected at senior apartment buildings in the Richmond area and at the VCU Health Clinic through the Richmond Health and Wellness Program (RHWP) among Older Adults. Demographics analysis includes age, sex, race/ethnicity, and housing location. Variables considered in the model include; 1) Social Determinants of Health (SDH) as defined by income, race/ethnicity, and education; 2) Medication risk will be measured by polypharmacy >=5 medications, Anticholinergic burden (ACB) score, drug class, and number of medications on the Beer's list. Polypharmacy numbers >=5 and >=7 were compared to see how much the difference would be significant. Results: Findings and study hypothesis focus on identifying number of individuals taking high risk medications. When the polypharmacy medication was compared using the chi square statistics, the results were significant with a p-value of 0.02. Conclusions: Study implications have an impact on older adult drug safety. With results being significant, it can be concluded that the number used to compare polypharmacy mattered for these results.
Faculty Advisor/Mentor
Youssef Roman, Ph.D
Faculty Advisor/Mentor
Elvin Price, Ph.D.
Faculty Advisor/Mentor
Lana Sargent, Ph.D.
Sponsorship
Virginia Commonwealth University. Undergraduate Research Opportunities Program
Is Part Of
VCU Undergraduate Research Posters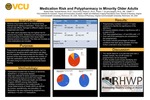 COinS