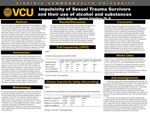 Abstract
Impulsivity in Sexual Trauma Survivors and their Use of Alcohol and Substances
Kayla McLean, Dept. of Psychology, with Dr. Jasmin Vassileva, Depts. of Psychology and Psychiatry
The current study investigates the associations of neurocognitive 'choice' impulsivity (delay discounting) and personality 'trait' impulsivity (UPPS Impulsive Behavior Scale) with alcohol and substance use among female college students reporting history of sexual trauma. Participants included 2476 students enrolled in the Spit for Science study of college student mental health at VCU. Bivariate correlations were used to examine the associations between lifetime use of alcohol and different types of drugs with delay discounting and trait impulsivity among female students reporting history of sexual trauma (N=688). The results revealed that only cannabis (r=0.10, p<.05) and prescription stimulants (r=0.11, p<.05) were significantly correlated with delay discounting, particularly of rewards of small magnitude. Emotion-related factors of the UPPS trait impulsivity (negative urgency, positive urgency, and sensation seeking), showed positive relationships with cannabis (r=0.34, p<.01), opioids (r=0.27, p<.05), stimulants (r=0.23, p<.05), prescription sedatives (r=0.43, p<.05) and prescription anxiolytics (r=0.43, p<.05). These results may indicate substance use as a means of coping with the emotional effects of sexual trauma.
Faculty Advisor/Mentor
Jasmin Vassileva, Ph.D.
Sponsorship
Virginia Commonwealth University. Undergraduate Research Opportunities Program
Is Part Of
VCU Undergraduate Research Posters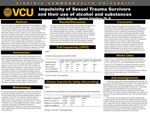 COinS