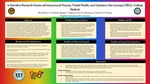 Abstract
A Narrative Review of Interpersonal Trauma, Mental Health, and Substance Use Among LGBQ College Students
Meagan Nguyen, Dept. of Psychology, Mar'Quelle Winfield, & Eryn DeLaney, Dept. of Psychology Graduate Student, with Dr. Chelsea D. Williams, Dept. of Psychology
College is a critical time for LGBQ (lesbian, gay, bisexual, queer) individuals due to sexual identity formation and trauma exposure (e.g. Arnett, 2000; Acierno et al,. 2001). Studies have shown that heterosexism is manifested on college campuses through discriminaition and cultural norms that devalue LGBQ individuals and perpetuate heterosexuality as normative and superior (Rankin et al., 2010). Additionally, there is a drastic increase in prevalence across different trauma types (e.g., sexual assault), as well as the continuation of risk behavior and psychological distress, including substance abuse (Oswalt & Wyatt, 2011) during this time period. Using psychinfo to find articles to day, the purpose of this literature review was to examine the literature review and identify gaps in work that has exposed the associations between intimate partner violence (i.e., IPV), childhood sexual abuse, physical assault and sexual assault on mental health and substance use among LGBQ college students. Findings indicated that the previously mentioned associations exist among LGBQ+ adults. Discussion will include limitations within these studies, implications and future directions to improve LGBQ college students' outcomes.
Faculty Advisor/Mentor
Chelsea D. Williams, Ph.D.
Sponsorship
Virginia Commonwealth University. Undergraduate Research Opportunities Program
Is Part Of
VCU Undergraduate Research Posters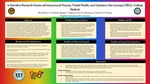 COinS