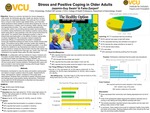 Abstract
Stress and Positive Coping in Older Adults
Jazzmin-Guy Swain, Dept. of Exercise Science, with Dr. Faika Zanjani, Dept. of Gerontology
Stress can become a huge health risk factor for older adults. Stress occurs when individuals experience demands or threats without sufficient resources to meet these demands or mitigate threats. Everyone has some form of the same stressor(s), money job/school, health and family, which are the main common stressors. In every population, if those stressors are prolonged the stress can become chronic and become detrimental to a person's health. The reason stress often becomes chronic is because individuals may not know how to overcome their stress. As individuals age their health can decline but the stress doesn't necessarily dissipate which then put older adults at increased risk of diseases. One stressor that the older adults uniquely experience is stress about their age. Older adults can experience stress related to worries about growing old, like potential declines in mobility, brain functioning,health, hearing and seeing, and ageism, discrimination against a person because of their old age. A way to address the effect that stress has on the older population is by giving advice on positive coping mechanisms. Introducing positive ways to manage stress can potentially have positive effects for reducing the stress, and also providing a positive viewpoint on aging and improving health. Accordingly, this study aims to obtain feedback on a developed positive coping poster. In collaboration with iCubed Health and Wellness Aging Core and Richmond Health and Wellness Program (RHWP), we implemented a survey to assess poster feedback and aging related stress levels to RHWP low-income senior housing resident population. Survey results will provide insight about the individual stress and how they feel about using positive coping mechanisms to cope with their own stress. The poster design, development, justification, and preliminary survey data from n=10 participants will be described and discussed to direct future health interventions.
Faculty Advisor/Mentor
Faika Zanjani, Ph.D.
Sponsorship
Virginia Commonwealth University. Undergraduate Research Opportunities Program
Is Part Of
VCU Undergraduate Research Posters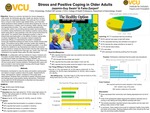 COinS