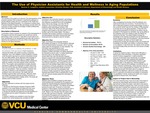 Abstract
The Use of Physician Assistants for Health and Wellness in Aging Populations
Desiree Longmire, Depts. of Kinesiology and Health Science, Biology, & Chemistry, with Dr. Christine Booker, Dept. of Kinesiology and Health Science
I conducted a study to expand my research on the demographics of Physician Assistant (PA) programs and how the programs can benefit from having Gerontology in their curriculum. I was able to record data on an excel spreadsheet on the demographics and pass rate scores of PA program graduates. This data was used to assess if PA programs have Gerontology in their curriculum as separate courses. Also, the data was used to determine if there is a correlation of pass rates of PA programs with more diverse students in specific geographical regions that serve aging populations. This information helps fill the gap in the literature by ascertaining the significance of the use of more diverse PA's in the health care industry and their ability to impact care for the health and wellness of the aging population.
Faculty Advisor/Mentor
Christine Booker, Ph.D.
Sponsorship
Virginia Commonwealth University. Undergraduate Research Opportunities Program
Is Part Of
VCU Undergraduate Research Posters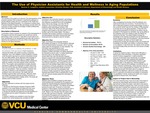 COinS