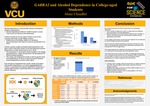 Abstract
GABRA2 and Alcohol Dependence in College-aged Students
Abaiz Chaudhri, Depts. of Biology and Chemistry, with Dr. Amy Adkins and Dr. Sally Kuo, Dept. of Psychology
Problematic alcohol use and associated consequences is a major problem in college-aged students. These outcomes, and alcohol dependence (uncontrolled alcohol consumption despite consequences), are complex and influenced by genetics and environmental factors, and the interplay between both. Variants in the gene GABRA2 have been shown to be associated with alcohol dependence in adolescents and older adults, yet the association is not studied nearly enough in the college-aged population, a high-risk period for the development of alcohol-related problems. The hypothesis of this study is that GABRA2 is associated with alcohol dependence in college-aged students of European and African ancestry. The data was obtained from Spit4Science, where surveys were given to college students and saliva samples were collected and DNA extracted. The results indicate that the 8 genetic variants studied showed no significant association between GABRA2 and alcohol dependence in either ancestry. Our results suggest that further research needs to be conducted, either on the same or different genetic variants to see whether there may still be an association. This study adds a primary look at GABRA2 as it relates to alcohol dependence within a college-aged sample.
Faculty Advisor/Mentor
Amy Adkins, Ph.D.
Faculty Advisor/Mentor
Sally Kuo, Ph.D.
Sponsorship
Virginia Commonwealth University. Undergraduate Research Opportunities Program
Is Part Of
VCU Undergraduate Research Posters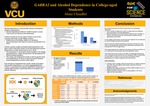 COinS