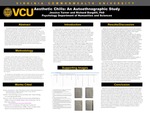 Abstract
Aesthetic Chills: An Autoethnographic Study
Jessica Turner, Dept. of Psychology, with Dr. Richard Bargdill, Dept. of Psychology
The purpose of this poster is to describe autoethnographic research that recorded experiences of aesthetic chills. Aesthetic chills are a psychophysiological response to stimuli that create pilo-erection and a "chill" effect on the body not related to temperature (i.e. goosebumps due to experiences of beauty). For the last two years, the researcher has made a written record of each instance of his experience of an aesthetic chill and the circumstances that triggered the chill. The data consists of brief descriptions of the triggering event, the date the chill occurred. Some descriptions also include the location where the chills were experienced on the body (i.e. back of the neck) as well as the intensity of that chill (mild, intense, pulsar). The encounters have been analyzed for similarities in conditions and given a number in numerical order of the date it was recorded. This research has provided both quantitative and qualitative data to analyze for the purpose of understanding more about the how frequently and under what thematic categories the aesthetic chills occur for this researcher.
According to Denzin (2008) analytic autoethnography has five key features. It is ethnographic work in which: (a)The researcher "is a full member in a research group or setting" meaning that the researcher is also the participant (b) The researcher "uses analytic reflexivity;" the researcher is researching one's own experience and has decided in advance how to capture that experience. (c) The researcher "has a visible narrative presence in the written text." That is, the data is a record of the researchers experience and contains one's personal knowledge. (d) The researcher "engages in dialogue with informants beyond the self." The data is to be shared with other researchers of the topic and his research team. e) Researcher "is committed to an analytic research agenda focused on improving theoretical understandings of broader social phenomena." The research is intended to answer questions about whether recording aesthetic chills increases one's sensitivity to them and thus increases their frequency.
Dr. Bargdill is the autoethnographer since he is both author and focus of the research. He is the one who narrates his experiences as the observer and the observed. By being able to incorporate himself into the research, he is able to tie together the personal aspect of the culture, thinking and observing as an ethnographer and both the writing and describing as a storyteller and researcher.
Faculty Advisor/Mentor
Richard Bargdill, Ph.D.
Sponsorship
Virginia Commonwealth University. Undergraduate Research Opportunities Program
Is Part Of
VCU Undergraduate Research Posters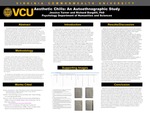 COinS