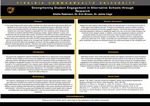 Abstract
Strengthening Student Engagement in Alternative School Settings
Alisha Robinson, Depts. of Social Work and Sociology, with Dr. Erin Burke Brown, VCU ASPiRE
In the United States public school system students who attend alternative high schools (AHS) are identified as the most socially and academically marginalized group of individuals. AHS last chance and remedial programs are used as a behavioral remediation intervention to serve students who have been expelled or suspended from their traditional school. Reasons that contribute to students attending AHS include poor grades, negative behavior, truancy, and involvement with the juvenile justice system. The student population within AHS settings are highly comprised of at-risk African American and Latinx students from low-socioeconomic environments. As AHS are intended to promote a positive learning environment with beneficial resources, the outcomes of past enrolled students are alarming. Dropout rates have continually risen within the AHS student population. As well, students are being sent to juvenile detention centers at an increased rate. Students' experiences in the alternative learning environment affect their perception of school, how they engage within the environment, and their overall educational outcome. Therefore, this project sought to find effective interventions that would promote behavior, academics and attendance for students in alternative school settings. Through a summer volunteer experience, various themes were formulated that can positively enhance student engagement within AHS settings.
Faculty Advisor/Mentor
Erin Brown, Ph.D.
Faculty Advisor/Mentor
Jamie Cage, Ph.D.
Sponsorship
Virginia Commonwealth University. Undergraduate Research Opportunities Program
Is Part Of
VCU Undergraduate Research Posters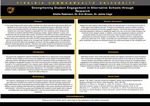 COinS