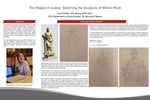 Abstract
The Stages of Justice: Sketching the Sculpture of William Rush
Jae Ricketts, with Dr. Bernard Means, Dept. of Anthropology
This poster displays a portion of the illustrative work that I did for Dr. Bernard Means at VCU's Virtual Curation Lab (VCL). Using 3D scans procured by Dr. Means, I was able to create sketches of the work of William Rush, an American neoclassical sculptor. My poster focuses specifically on the illustrative process that I went through when drawing Rush's sculpture called Justice. Dr. Means' scans of Justice, made publicly available on the VCL's Sketchfab site, allowed me to complete this project remotely. Many 3D models can be interacted with, manipulated, or viewed from multiple angles, all while maintaining a perceptible level of detail. Not only does this fact allow for remote study by scholars and artists, but it also opens up new possibilities for virtual education. Digital media, such as 3D scans and models, could provide viable answers to questions of geographic accessibility in educational institutions such as museums and universities.
Faculty Advisor/Mentor
Bernard K. Means, Ph.D.
Sponsorship
Virginia Commonwealth University. Undergraduate Research Opportunities Program
Is Part Of
VCU Undergraduate Research Posters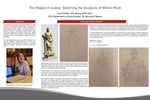 COinS