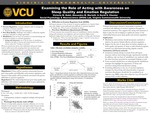 Abstract
The Role of Acting with Awareness on Sleep Quality and Difficulties with Emotion Regulation
Victoria Rabii, Depts. of Psychology and Biology, and Alexandra Martelli, Dept. of Psychology Graduate Student, with Dr. David Chester, Dept. of Psychology
About 60% of college students experience difficulties with proper sleep quality. Poor sleep quality challenges one's ability to effectively regulate emotions, especially in college-aged adults. Emotion regulation, defined as the strategies utilized to alter or manage the experience of intense emotions, is beneficial to our health and social relationships. Mindfulness, how we focus our attention on internal feelings and emotions in relation to external experiences, can assist in understanding the link between sleep quality and emotion regulation ability. Without proper balance between the two, this maladaptive emotional management is likely to be heightened in addition to reducing internal resources that ultimately worsen self-control. In the present study, we predicted that there will be a positive relationship between poor sleep quality and difficulties in emotion regulation. Additionally, this link will be explained via a facet of mindfulness termed acting with awareness. Undergraduate students (N=471) completed self-report measures of sleep quality, emotion regulation, and mindfulness. Findings indicated that our hypotheses were supported, as poor sleep quality was discovered to be positively correlated with difficulty in emotion regulation through the indirect effect of less acting with awareness. Significant implications may be evident in mindfulness interventions aimed at improving the process behind effective emotion regulation. Additional support for the role of sleep within these concepts allow for further emphasis on better quality and quantity of sleep to yield enhanced cognitive controls (e.g. information processing, impulse control). Future research should focus on specific mindfulness strategies that highlight the importance of better self-awareness during behavioral decision making. Examining differences in the use of emotion regulation strategies for those living with sleep disorders or general, consistent disturbances should also be considered.
Faculty Advisor/Mentor
David S. Chester, Ph.D.
Sponsorship
Virginia Commonwealth University. Undergraduate Research Opportunities Program
Is Part Of
VCU Undergraduate Research Posters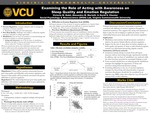 COinS