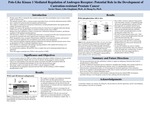 Abstract
Polo-Like Kinase 1 Mediated Regulation of Androgen Receptor: Potential Role in the Development of Castration Resistant Prostate Cancer
Xavier Moore, Depts. of Chemistry and Biology, with Dr. Zheng Fu, Ph.D., Department of Human and Molecular Genetics
Brief Description:
Primary therapy for advanced prostate cancer (PCa) is androgen deprivation therapy. This therapy is effective for generally one to two years, however, the disease then progresses to lethal castration-resistant prostate cancer (CRPC). There is significant interest in determining the molecular underpinnings of this transformation. Preliminary data suggests that polo-like kinase one (PLK1) may play a role in the development of CRPC. This study seeks to investigate if PLK1 interacts with the androgen receptor and to characterize the functional significance of such an interaction.
Abstract:
The advancement to castration-resistant prostate cancer (CRPC) brings a ubiquitously terminal prognosis. Incomplete understanding of the molecular driving forces of this transformation hinders the development of novel therapeutics to treat lethal prostate cancer (PCa). Herein, we provide preliminary evidence that polo-like kinase 1 (PLK1) and the androgen receptor (AR) interact endogenously, resulting in PLK1-mediated phosphorylation. These data, among other publications, provide evidence that PLK1 may be involved in the development of terminal PCa and justify further investigations to delineate the functional significance of this interaction. Comprehensive characterization offers the potential for novel therapeutic avenues in the treatment of castration-resistant prostate cancer.
Faculty Advisor/Mentor
Lilia Gheghiani, Ph.D.
Faculty Advisor/Mentor
Zheng Fu, Ph.D.
Sponsorship
Virginia Commonwealth University. Undergraduate Research Opportunities Program
Is Part Of
VCU Undergraduate Research Posters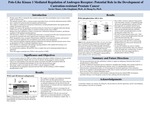 COinS