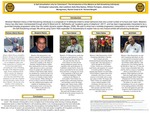 Abstract
The Eco-Martyrs of 2018 and Maslow: Is Self-Actualization Only for Colonizers?
Johanna Guz-Montgomery, Dept. of Psychology, Ian McFadden, Victoria Bee, Ashley Sanico, William Purrington, Christopher Latourrette, Rachel Creed, Kelly Rios-Santos, and Alan Lankford, with Dr. Richard Bargdill, Dept. of Psychology
Every year the Global Witness organization complies and releases a list of forest, earth, water and animal protectors who have been murdered while defending the earth and people. There have been about 2000 "eco-martyrs" since 2002. Most of these persons are farmers, indigenous people, nature lovers or in other words--ordinary people. In their efforts to stop projects that would lead to further environmental destructive and increased climate change, these persons have stood up to governments, militaries, corporations which have attempted to intimidate them. Most of our 'eco-martyrs' had been previously threatened with violence and murder. Many have sought protection from authorities, although almost none have received any and if they did it was clearly ineffective. Our undergraduate research group lead by Dr. Richard Bargdill has constructed short summaries on each of the 2000 names over the last 3 years. We have been humbled by the courage and tenacity of this group of people who in the end represent the best that humanity has to offer. Yet, we noticed that according to our understanding of the Hierarchy of Needs put forth by Maslow that many of these eco-martyrs would not qualify as self-actualized since most live in nations that do not provide the lower needs. Last year we found exemplary cases from our eco-martyrs where from their brief biographies we could be certain that they exhibited at least one of the 16 qualities and did that for 16 cases. At a poster session we were approached by Maslow scholar Andrew Bland and given the suggestion that our understanding of Maslow's Hierarchy of Needs was not complete. For this year's presentation we would like to both address Dr. Bland's constructive criticism and also share 16 eco-martyrs stories all of which were murdered in the 2018.
Faculty Advisor/Mentor
Richard Bargdill, Ph.D.
Sponsorship
Virginia Commonwealth University. Undergraduate Research Opportunities Program
Is Part Of
VCU Undergraduate Research Posters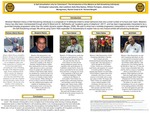 COinS