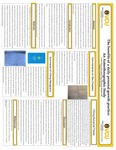 Abstract
The Benefits of a Daily Personal Growth Practice
Carolyn Henao, Depts. of Psychology and Spanish, and Maria Ribera, with Dr. Richard Bargdill, Dept. of Psychology
The aim of this poster will be to describe autoethnographic research evaluating the benefits of a daily personal growth practice. For the past four years Dr. Richard Bargdill has taken a reading from one of the 81 chapters of the Tao de Ching as well as a reading from one of the 64 I-Ching excerpts daily. In addition, he writes his own commentary for each chapter of the Tao and a comparative American idiom for each I-Ching reading. The numbers corresponding to each excerpt pulled have all been recorded in an excel file to be examined for numerical trends. This personal growth research has provided us with both qualitative and quantitative data to analyze for the purpose of sharing the transformational power of daily meditative practice.
Faculty Advisor/Mentor
Richard Bargdill, Ph.D.
Sponsorship
Virginia Commonwealth University. Undergraduate Research Opportunities Program
Is Part Of
VCU Undergraduate Research Posters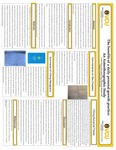 COinS