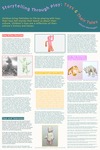 Abstract
Storytelling Through Play
Allison Heerwagen, Depts. of Graphic Design and Anthropology, with Dr. Bernard K. Means, Dept. of Anthropology
As children interpret and build on narratives with their own imagination, storytelling as a cultural practice involves even the youngest of a community. Children raised with folktales, myths, legends, and more can bring the stories to life through play inspired by the characters, setting, and stories shared with them. The most accessible tools for children to share and build stories are toys that can be used to interpret the beliefs, practices, and imagination of their culture. In addition, many children's toys are objects that serve as a reflection and translation of their culture's written and oral history. In this way, toys can be intrinsically tied to narratives–fiction or nonfiction, fantasy or rooted in reality–that play out during specific historical events and cultural environments. The way children play, and what they play with, shows how they are able to reinterpret and communicate their everyday experiences. Combined with imaginative creation and fantasy, children contribute to the narrative through their lens.
Faculty Advisor/Mentor
Bernard K. Means, Ph.D.
Sponsorship
Virginia Commonwealth University. Undergraduate Research Opportunities Program
Is Part Of
VCU Undergraduate Research Posters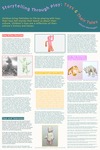 COinS