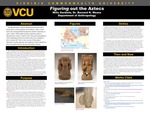 Title
Abstract
Figuring Out the Aztecs
Milla Gardioloa, Dept. of Sociology, with Dr. Bernard Means, Dept. of Anthropology
This project looks at various Mesoamerican artwork with a strong focus on Aztec figurines and sculptures. I take a closer look at the meaning behind the figurines and their importance to Aztec cultures. With religion being an important aspect in Mesoamerican culture, I explore a few Aztec deities and explain who they are and how they are worshiped in their everyday life. There is also a section of this project dedicated to modern figurines and sculptures with the intention to show the relation between the past and modern cultures.
Faculty Advisor/Mentor
Bernard K. Means, Ph.D.
Sponsorship
Virginia Commonwealth University. Undergraduate Research Opportunities Program
Is Part Of
VCU Undergraduate Research Posters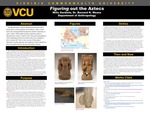 COinS