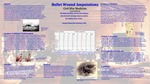 Title
Abstract
Bullet Wound Amputation
Laura Flaherty, Depts. of Anthropology and History, with Dr. Bernard Means, Dept. of Anthropology
"The limbs of soldiers are in as much danger from the ardor of young surgeons as from the missiles of the enemy."
-Surgeon Julian John Chisholm, 1864
Civil War medicine was highly dependent on the profession and education of those practicing medicine on the battlefield. Throughout the states that were involved with the war are burial grounds of soldiers or partial remains post amputation. Are there indicators of differing probabilities of survival of amputees at field hospitals or (traditional) established hospitals? Were soldiers more likely to live through amputations only to later die from infection? The factors under consideration are: capabilities of surgeons and staff at the types of treatment locations, hygiene, infection, available treatment material, potential transfers from field to established hospitals, treatments, and the later disposal of limbs.
Faculty Advisor/Mentor
Bernard K. Means, Ph.D.
Sponsorship
Virginia Commonwealth University. Undergraduate Research Opportunities Program
Is Part Of
VCU Undergraduate Research Posters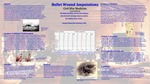 COinS