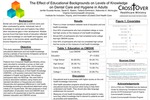 Abstract
The Effect of Education on Knowledge of Dental Care and Hygiene in Adults
Jenifer Euceda Nunez, Dept. of Homeland Security, with Dr. Sarah Raskin, L. Douglas Wilder School of Government and Public Affairs
Introduction: Dental care and hygiene are a common worry and often overlooked by adults. It is paid less attention to due to dental problems not occurring as often as other medical conditions and simply not having the sufficient knowledge. Individuals' lack of knowledge on dental care and hygiene may reflect other educational gaps. This study assessed the relationship between educational attainment and knowledge of oral health among a sample of low-income immigrants served at a free clinic in Richmond, Virginia. Methods: Patients from Crossover HealthCare Ministry clinics were recruited to complete a survey about their oral health experiences, quality of life, and knowledge, such as names of certain areas in the mouth, and what factors can cause certain diseases. Oral health knowledge was assessed using the Comprehensive Measure of Oral Health Knowledge, a 25-question instrument that has been validated in English and Spanish. The research team entered study data into a secure online research survey system, REDCap; data was analyzed using SAS. Participant recruitment and data collection are still ongoing. Initial analysis focuses on descriptive statistics using means (M)/standard deviations (SDs) or frequencies/relative frequencies to assess differences in oral health knowledge across educational attainment, using t-tests for continuous variables and chi square test for categorical variables. Results: We expect to see more incorrect answers from the CMOHK in individuals with lower levels of educational background. Conclusions: This study aids in understanding educational impact on dental care. If lower educational levels are associated with lower oral health knowledge as measured by incorrect answers they will have on the CMOHK, intervention for this group would be salient.
Faculty Advisor/Mentor
Sarah Raskin, Ph.D.
Faculty Advisor/Mentor
Aderonke A. Akinkugbe, Ph.D.
Sponsorship
Virginia Commonwealth University. Undergraduate Research Opportunities Program
Is Part Of
VCU Undergraduate Research Posters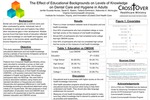 COinS