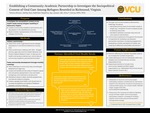 Abstract
Establishing a Community-Academic Partnership to Investigate the Sociopolitical Context of Oral Care Among Refugees Resettled in Richmond, Virginia
Tatiana Brown, Depts. of Anthropology, Medical Humanities, & Mathematics, with Dr. Dina Garcia, Dept. of Health Behavior and Policy
This study has established a community-academic partnership between four organizations and VCU Health Behavior and Policy's Kalpulli Research Team to investigate the sociopolitical context of oral health needs among refugees resettling in Richmond, Virginia. In the year 2018, 1,689 refugees resettled in the state of Virginia; 47.7 percent of this population reported oral health needs during their initial health assessment screening. Despite the oral health needs present within this population, little is known about the facilitators and barriers to dental care access for this population post-resettlement. Creating a partnership with two local resettlement agencies (e.g., the International Rescue Committee, Commonwealth Catholic Charities), the Department of Social Services (DSS), and VA Department of Health's Newcomer (Refugee) Health Program, in addition to having a transdisciplinary research team, enable the development of a holistic representation within, and of, the refugee community. The use of semi-structured interviews is the strongest approach to build the research team's understanding of community perceptions towards access to oral health care, refugee health workers' identified barriers to equitable care, and providers' attitudes towards treating the refugee and Medicaid population. Community partners are key in shaping study recruitment, determining which interview questions will be most salient, and creating an effective intervention from the results. This partnership plans to create two collaborative interventions: a process map to help refugees better navigate establishing care with local providers and "oral care cards" in the top three refugee languages (Arabic, Farsi/Dhari, and Swahili) to be distributed through dental providers in the area.
Current Academic Year
Freshman
Faculty Advisor/Mentor
Dina Garcia, Ph.D.
Sponsorship
Virginia Commonwealth University. Undergraduate Research Opportunities Program
Is Part Of
VCU Undergraduate Research Posters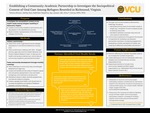 COinS