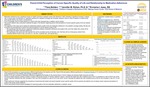 Abstract
Parent-Child Perception of Cancer-Specific Quality of Life and Relationship to Medication Adherence
Tiara Bolden, Dept. of Psychology, and Evrosina I. Isaac, VCU School of Medicine Medical Student, with Dr. Jennifer M. Rohan, Children's Hospital of Richmond at VCU
Background: Medication adherence has a significant impact on health outcomes in pediatric cancer with adherence <95% indicating a significant increase in relapse risk. In recent years, the literature on medication adherence in pediatric oncology has increased. However, there is a lack of research on determining what specific factors may result in nonadherence. The current research was conducted to address the gaps in the literature regarding parent-child perceptions of cancer-specific quality of life and medical adherence. Objective: The objective of this study was to assess the relationship between quality of life and medication adherence in the pediatric oncology setting. We also aim to examine the discrepancies of parent and child perceptions in cancer-specific quality of life. To our knowledge, there is limited literature on parent-child rater discrepancies in pediatric cancer studies. Methods: Children/adolescents ages 7 to 19 years old (N=139; Mage = 12.29 ± 3.44)diagnosed with cancer who were in the maintenance phase of treatment were monitored over fifteen months by using Medication Event Monitoring System devices to examine medication adherence. Parents and patients completed an assessment battery, which included a Parent- and Child-Report of PedsQL Quality of Life Inventory.. Assessments were taken at baseline, six months, and 15 months. Results: A bivariate (Pearson) correlation suggested that there was a significant relationship between parent and child reports of cancer-specific quality of life across all domains from baseline to 15 months (p<.05) We also identified three group-based trajectories of quality of life, including an optimal, moderate, and low quality of life group across 15 months. Conclusion: These preliminary findings suggested the importance of examining both patient and parent-reported cancer specific quality of life as parents and patients may not always report congruent perceptions of quality of life during cancer treatment. Future interventions should explore strategies for improving quality of life and medication adherence in pediatric cancer.
Faculty Advisor/Mentor
Jennifer M. Rohan, Ph.D.
Sponsorship
Virginia Commonwealth University. Undergraduate Research Opportunities Program
Is Part Of
VCU Undergraduate Research Posters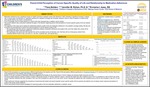 COinS