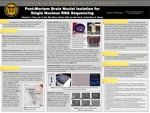 Abstract
Abstract
Post-Mortem Brain Nuclei Isolation for Single Nucleus RNA Sequencing
Charles Tran, Dept. of Biology, with Dr. Karolina Aberg, VCU School of Pharmacy
When tissue samples are studied in bulk without consideration for different cell proportions and types, results can be biased due to the attenuation of unique cellular expressions. In order to study cell type specific RNA expression profiles within tissue, single cell RNA sequencing (scRNA-seq) is used. For scRNA-seq studies it is critical to have intact cells. However, when investigating frozen post-mortem brain tissue, it is often challenging to isolate intact whole cells. An alternative solution is to instead isolate nuclei (which have similar, but not identical, transcriptomes to cells) and then perform single-nucleus RNA sequencing (snRNA-seq). In this study we have carefully optimized a protocol for nuclei extraction from post-mortem brain cells suitable for downstream snRNA-seq analysis. We found that adjusting our protocol to include less aggressive methods of tissue homogenization and sample-retaining lab techniques has resulted in the successful removal of cell debris and myelin alongside providing a workable sample size. In conclusion we have successfully evaluated and prepared enough high-quality nuclei for downstream scRNA-seq using our optimized protocol.
Disciplines
Biotechnology | Genomics | Molecular Genetics | Other Genetics and Genomics
Current Academic Year
Sophomore
Faculty Advisor/Mentor
Karolina Aberg, Ph.D.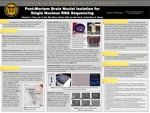 COinS