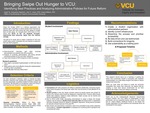 Abstract
At first glance, a college campus might look like a place of equal opportunity– communal dorms, shared dining halls, and similar course loads. However, arriving on campus is not where the college access conversation ends if students' basic needs are not met. Food insecure students are at elevated risk of poor academic performance and delayed degree completion, with first-generation students being particularly vulnerable. Swipe Out Hunger is an organization that partners with colleges to reduce food insecurity among students by allowing those with extra dining hall meal swipes to donate them to food insecure peers. If implemented at VCU, Swipe Out Hunger would mitigate food insecurity amongst the student population by creating a formalized donation process. We analyzed Swipe Out Hunger programs at Florida State University, Sacramento State University, Temple University, Texas A&M, Rutgers University – New Brunswick, UNC Charlotte, and the College of William and Mary. Semi-structured interviews with students, faculty, and staff from each of the chosen universities, alongside an analysis of publicly available information on university, administrative, and contractual policies, informed our creation of an internal roadmap for VCU. Through our findings, best practices were established and an institutional configuration of the program was recommended. As a result, other universities seeking to introduce their own version of a Swipe Out Hunger program will be more knowledgeable about how to achieve successful implementation and ensure long-term sustainability.
Keywords
Swipe Out Hunger, Food Insecurity, Student Hunger, Higher Education, Meal Swipes, Dining Halls, Food Pantries, Student Advocacy
Disciplines
Accessibility | Food Security | Food Studies | Higher Education | Public Affairs, Public Policy and Public Administration | Social Justice | Student Counseling and Personnel Services
Current Academic Year
Senior
Faculty Advisor/Mentor
Leland H. Waters
Faculty Advisor/Mentor
John C. Jones
Recommended Citation
Stephens, J. & Ta, A. (2022). Bringing Swipe Out Hunger to VCU: Identifying Best Practices and Analyzing Administrative Policies for Future Reform. VCU Institute for Inclusion, Inquiry & Innovation (iCubed).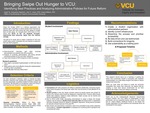 COinS