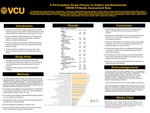 Abstract
The Richmond, VA COVID-19 Needs Assessment Survey (RVA CoNA) was created in March 2020 to identify behaviors and needs related to COVID-19 in Richmond area adults ages 18 and over. Results are being used to inform support, strategic efforts, and educational outreach of local community organizations. The purpose of this study is to (1) summarize the process used to develop the RVA CoNA, (2) summarize preliminary survey results from a second phase of data collection as well as initial feedback from community partners, and (3) summarize initial conclusions and results dissemination strategies.Community partners and researchers at Virginia Commonwealth University jointly contributed to the RVA CoNA through: (1) survey development, (2) pilot testing, (3) survey administration, (4) review survey results, (5) identifying dissemination strategies, and (6) identifying activities informed by survey results. Survey respondents answered questions in the following areas: healthcare, education, access to transportation, employment, behaviors, and self-reported illnesses. Two phases of data collection were conducted using: internet-based surveys (August 4, 2020-March 4, 2021; N = 350) and paper/pencil surveys (May 22-October 22, 2021; N = 265). Summary statistics were produced in R (Version 3.6.1). Second phase data collection results were discussed by the RPN-CAN in December 2021.Over half (58.5%) of second phase participants indicated that they spent more time doing enjoyable activities with family and friends during the pandemic. However, 45% of participants reported increased feelings of isolation and loneliness since the pandemic, 56% indicated having sleep problems since the start of the pandemic, and 48.1% indicated increased mental health problems.Community partners identified mental health as a priority. They considered developing organizational support that connects people with mental health resources to be a priority. Additional community-wide results dissemination and strategy implementation began in 2022 and is ongoing.
Subject Major(s)
Public Health, Biology
Keywords
COVID-19, Mental Health, Richmond, Behaviors
Disciplines
Applied Statistics | Clinical Epidemiology | Design of Experiments and Sample Surveys | Mental and Social Health | Public Health
Current Academic Year
Senior
Faculty Advisor/Mentor
Dr. Elizabeth Prom-Wormley
Recommended Citation
Ahmed et al.,(2022). A Participatory Group Process to Collect and Disseminate COVID-19 Needs Assessment Data. VCU Scholars Compass.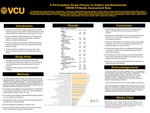 COinS