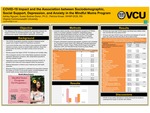 Abstract
Background: The Covid-19 Pandemic lockdown resulted in lessened social support and a higher incidence of depressive symptoms in the United States. Low-income families were more likely to have experienced negative impacts on income, access to mental health treatment, stress, and discord within the family, and higher anxiety scores during the pandemic. Minority groups had higher COVID-19 incidence and mortality rates. More than 1 in 5 pregnant women in the United States experience clinically significant depressive symptoms, with marginalized populations carrying a greater burden. Maternal depression is linked to poor maternal and child health outcomes.
Depression scores of pregnant individuals during the pandemic were higher than those who were pregnant before the COVID-19 pandemic. Because of this it is important to understand the association between the impact of COVID-19 and social support, sociodemographic, and mental health among marginalized pregnant women.
Objective: The objective of this study is to examine the association between the impact of COVID-19 sociodemographic (race, age, children, and socioeconomic status), social support, depression, and anxiety.
Methods: Inclusion criteria includes current depressive symptoms (≥7 EPDS); being 12-16 weeks' gestation at baseline; marginalized status: minorized (Black/Latinx/Native American and other); WIC eligible, and/or low educational attainment (≤high school); ≥18; English language speaking; and absence of suicidal ideation with a plan, psychosis or mania (measured with the MINI). Eligible pregnant women were randomly assigned to treatment or active control groups. Univariate and bivariate analysis were done to assess the differences between participants with high COVID-19 impact and low COVID-19 impact.
Results: The study and my analysis are currently enrolling; the first participant was enrolled mid-September. Currently, the study has enrolled 30 participants. Of the 12 participants with high COVID impact, two-thirds have children and one-third did not and two thirds were between 27 and 35, while one-third was above.
Discussion: COVID-19 and similar disruptors in family life should be studied to understand the impact on women with children.
Keywords
pregnancy, depression, COVID-19 Impact, social-support, Sociodemographic
Current Academic Year
Senior
Faculty Advisor/Mentor
Susan Bodnar-Deren, Ph.D.
Faculty Advisor/Mentor
Patricia Kinser, WHNP-DCB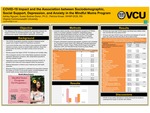 COinS