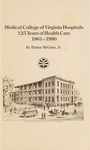 DOI
https://doi.org/10.21974/pmfm-z090
Original Publisher
Virginia Commonwealth University
Digital Publisher
VCU Libraries
Physical Description
24 pages : illustrations ; 28 cm
Note
Publication date: [1986?]
Topical Subject
Hospitals -- Virginia -- Richmond -- History
Topical Subject
Richmond (Va.) -- History
Corporate Name Subject
Medical College of Virginia -- History
Medical Subject
Hospitals, University
Keywords
Medical College of Virginia, MCV, Medical College of Virginia Hospitals
Disciplines
Higher Education | Medical Education
Digital File Type
application/pdf
Digitization Process
Photographed with Canon Rebel T6i, 24.2MP, RAW, 14-bit
Date of Submission
2019-08-13
Rights
This material is protected by copyright, and copyright is held by VCU. You are permitted to use this material in any way that is permitted by copyright. In addition, this material is licensed under a Creative Commons Attribution-Noncommercial-Share Alike 4.0 International license (CC BY-NC-SA 4.0) (https://creativecommons.org/licenses/by-nc-sa/4.0/). Acknowledgment of Virginia Commonwealth University Libraries as a source is required.
Original Publication
McGuire, Hunter. 1986. Medical College of Virginia Hospitals: 125 years of health care, 1861-1986. [Richmond, Va.]: [Virginia Commonwealth University].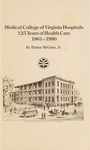 Included in
COinS