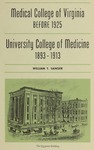 DOI
https://doi.org/10.21974/59hc-8x25
Cover Title
Medical College of Virginia before 1925, University College of Medicine 1893-1913
Original Publisher
Medical College of Virginia Foundation
Digital Publisher
VCU Libraries
Physical Description
x, 144 pages: illustrations; 24 cm
Description
The first North American hospitals were built in Virginia in 1611. Virginia continued to set hospital and health education trends with the establishment of the Department of Medicine in Richmond, later known as the School of Medicine, in 1837. Through data largely compiled by former secretary-treasurer of the College, J.R. McCauley, this book covers the early history of the Medical College of Virginia (MCV) and the history of health services education in Virginia from 1893 to 1913. Major events covered in this book include the effects of World War I on the College and the unsuccessful proposals to consolidate MCV with the University of Virginia and the University of Richmond.
Note
Includes bibliographical references.
Corporate Name Subject
Medical College of Virginia -- History
Corporate Name Subject
University College of Medicine (Richmond, Va.)
Medical Subject
Schools, Medical -- history
Keywords
Medical College of Virginia, MCV, medical schools, University College of Medicine
Disciplines
Higher Education | Medical Education
Digital File Type
application/pdf
Digitization Process
Photographed with Canon Rebel T6i, 24.2MP, RAW, 14-bit
Date of Submission
2019-08-13
Rights
This material is protected by copyright, and copyright is held by VCU. You are permitted to use this material in any way that is permitted by copyright. In addition, this material is licensed under a Creative Commons Attribution-Noncommercial-Share Alike 4.0 International license (CC BY-NC-SA 4.0) (https://creativecommons.org/licenses/by-nc-sa/4.0/). Acknowledgment of Virginia Commonwealth University Libraries as a source is required.
Original Publication
Sanger, William T. 1973. Medical College of Virginia before 1925, and University College of Medicine 1893-1913. Richmond: Medical College of Virginia Foundation.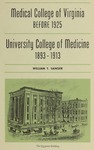 Included in
COinS