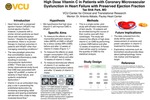 High Dose Vitamin C in Patients with Coronary Microvascular Dysfunction in Heart Failure with Preserved Ejection Fraction
Abstract
Presenting Author: Taeshik Park, M.D.
Abstract Title: High Dose Vitamin C in Patients with Coronary Microvascular Dysfunction in Heart Failure with Preserved Ejection Fraction
Introduction:
Heart failure with preserved ejection fraction (HFpEF) has normal ejection fraction however it has a similar clinical syndrome as heart failure with reduced ejection fraction. Even if there is significant number of prevalence, there is no proven therapy to improve outcomes in patients who have HFpEF other than managing coexisting conditions.
The new paradigm presumes the comorbidities cause systemic proinflammatory state resulting in coronary microvascular dysfunction (CMD). There was one multi-center observational study found CMD being associated with higher NT-proBNP which is a marker of severity in heart failure, and systemic endothelial dysfunction.
Vitamin C as an antioxidant may play a role in preventing the endothelial dysfunction by increasing scavenging radial species and sparing endothelial cell-derived nitric oxide to help modulate blood flow.
Hypothesis:
We hypothesize that high dose Vitamin C which improves CMD in HFpEF.
Methods:
This is a single center, pilot study with blinded interpretation of test results. 15 subjects will be enrolled during course of their routine care with cardiologist. We will measure the effects on CMD of subject by stress cardiac MRI before and after 12 weeks of high dose(1000mg/day) vitamin C treatment. Paired t-test will be used to compare the quantity of CMD for the statistical analysis.
Future Implications:
This is a pilot study of high dose vitamin C with CMD in HFpEF. The data collected from this study will be used for measurement of variance and power calculation in treatment before and after Vitamin C treatment for the future study.
This paper has been withdrawn.