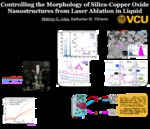 Abstract
Background
Rising levels of greenhouse gases in our atmosphere such as CO 2 are contributing to global rises in temperature, acidification of the oceans, and more extreme weather conditions. Hydrogenation of CO 2 to form carbon-based products is of great importance to reduce CO 2 levels and generate carbon-based compounds that can be used for industrial purposes. Copper- and nickel- based nanocatalysts have promising catalytic activity toward CO 2 hydrogenation, and have great interest to replace expensive and rare Pt- and Pd-based catalysts.
Methods
Focusing high powered laser pulses onto the surface of a silicon wafer immersed in liquid solutions containing nickel nitrate or copper nitrate in alkaline media leads to the formation of Cu, Ni or copper-nickel phyllosilicates (PS). The laser pulses remove Si atoms from the wafer, allowing them to interact with the surrounding liquid where the Cu 2+ or Ni 2+ ions incorporate themselves into the forming phyllosilicate structure. The well-dispersed Cu and Ni atoms throughout the structure lead to a highly catalytically active material.
Results
The Cu-PS and Ni-PS nanostructures were synthesized, and the formation mechanisms from different experimental parameters were investigated. The Cu-PS selectively converted CO 2 to methanol below 500ºC, and formed methanol and methane above 500ºC.
Conclusions
The synthesis of Cu-PS and Ni-PS nanostructured catalysts were achieved using a reactive laser ablation in liquid technique, and the products displayed catalytic activity toward the hydrogenation of CO 2 , with temperature-dependent selectivity toward methanol and methane.
Disciplines
Life Sciences
Is Part Of
VCU Graduate Research Posters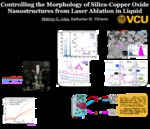 Included in
COinS