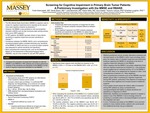 Abstract
Introduction: The prevalence of mild cognition impairment (MCI) among older adults (≥65) is estimated to range between 10-20% (Langa & Levine, 2014). Integrated primary care allows opportunities for interdisciplinary consultation, screening, and intervention. The aim of this study is to explore the percentage of older adults reporting cognitive concerns during their first primary care psychology visits. It is hypothesized that these rates will mirror prevalence rates in other older adult community dwelling samples in primary care settings.
Methods: A patient sample of older adults (≥60) was introduced to services following a referral from their primary care physician. Clinicians then identified problems that were discussed in session, including "cognitive concerns." Descriptive statistics will be used to assess the percentage of older adults with "cognitive concerns" in this sample, compared to other community dwelling samples.
Results: 267 older adults were identified within a larger sample of patients who received primary care psychology services. The percentage of older adults who were referred for "cognitive concerns" was 10.5% (n = 28), with 12.7% (n = 34) reporting "cognitive concerns" during their visit. Interestingly of the 28 older adults referred by their provider for "cognitive concerns," less than 50% (n = 13) of those patients reported "cognitive concerns" as one of their problems in session.
Discussion: This sample of older adults reported cognitive concerns in primary care psychology sessions at a rate that falls within the range identified in other community dwelling samples. Future research could further improve upon identification and screening of older adults with cognitive concerns by psychologists in primary care settings, as intervention for MCI can improve quality of life and may delay progression of dementia (Campbell et al., 2018; Eshkoor et al., 2015).
Disciplines
Clinical Psychology
Is Part Of
VCU Graduate Research Posters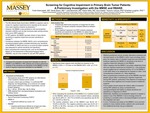 Included in
COinS