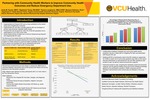 Abstract
Background: Frequent ED users (5%) are sicker, poorer, not satisfied with the health system and cost 20% of total ED charges.
Objective: A pilot study of feasibility of partnering with CHW to improve health knowledge and outcomes and reduce ED use in low income community.
Methods: RCH ED utilizers were randomized to intervention and control groups. CHW contacted intervention group within 10 days of ED visit, surveyed about access to care, healthy living, and knowledge about chronic disease, and offered education, referrals to insurance and social and economic support. ED utilization and cost were recorded for all patients for 6 months. Preventable ED visits were classified according to Johnston et al1 and high utilizers have 2+ ED visits. Intervention and control characteristics and ED utilizations and cost were described and compared using t-tests, ANOVA, and Chi-square at alpha=0.1. Adjusted analyses were performed using linear and logistic regressions.
Results: 91 and 61 randomized to intervention and control with 29 and 23 high utilizers respectively. Drop-in percent of patients with all and preventable ED visits was higher among intervention (12 and 17 percentage points, respectively). 65% of the total ED cost is preventable in the pre-intervention period. That dropped by 17 and 7% in intervention period among the intervention and control groups. The intervention estimated cost savings were $120K. Intervention group had significant improvement in self-reported general health, regular exercise, understanding of health benefits and chronic disease.
Conclusions: hospital, academic, and CHW partnership reduces ED utilization and cost and improves health.
Disciplines
Medicine and Health Sciences
Is Part Of
VCU Graduate Research Posters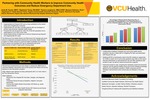 Included in
COinS