JPER is currently seeking applicants for our review board.
Please see our Announcements page for details.
---
The Journal of Prison Education and Reentry (JPER) is an international, open access, peer-reviewed journal for researchers and practitioners. Topics covered include but are not limited to sociology, criminology, adult education and literacy, instructional design, mental and behavioral health, and administration and policy as it relates to the context of prisoner education and subsequent reentry into the community beyond prison walls.
Current Issue: Volume 6, Number 1 (2019) Special Issue 2019: Critical reflections on Higher Education in Prison
Full Issue
Features
Research Papers
Practitioner Papers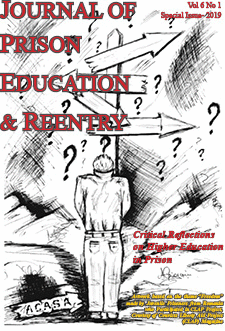 Special Issue Editors
Lead Editor

Dr. Cormac Behan

Guest Editors

Dr. Helen Nichols
Dr. Suzanne Young